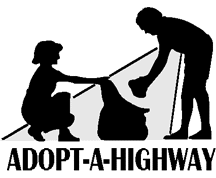 In 2019, Weddington was recognized by the state of North Carolina for 30 years of continuous work on our Adopt-A-Highway project.
Weddington Optimist Club's 2023 Adopt-A-Highway date will be 

September 23rd.

It's projects like this that make our community look great!
COME JOIN US
Weddington Optimist Club takes part in the North Carolina Adopt-a-Highway program by taking responsibility of over two miles of Highway 84, on which the park is located. At least twice a year, club members can be seen, in their orange vests, picking up all the trash on the sides of Highway 84 between Indian Trail-Waxhaw Road and Twelve Mile Creek Road
Join us at 8:30am at the Optimist club house in Optimist Park.