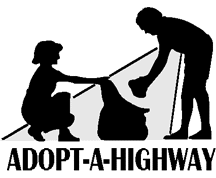 In 2014, Weddington was recognized by the state of North Carolina for 25 years of continuous work on our Adopt-A-Highway project.
Weddington Optimist Club Adopt-A-Highway on Saturday, Nov 4, 2017.  Many thanks to Tom Clinton for organizing this project year after year.  And also to our Optimist members Joh, Johnny, Dave, Chris, Rick, Mary Ann and Mike for participating this year.  It's projects like this that make our community look great!
Weddington Optimist Club takes part in the North Carolina
Adopt-a-Highway program by taking responsibility of over two
miles of Highway 84, on which the park is located. At least twice
a year, club members can be seen, in their orange vests, picking
up all the trash on the sides of Highway 84 between Indian
Trail-Waxhaw Road and Twelve Mile Creek Road.