Weddington Optimist Park
5211 Weddington Road (Hwy 84) 
Weddington, NC 28104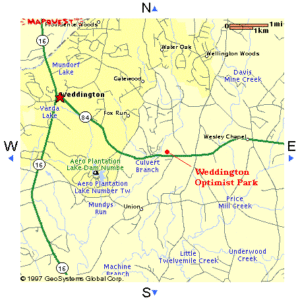 Located on highway 84 between the towns of Weddington and Wesley Chapel  North Carolina, Weddington Optimist Park is a community wide effort with Weddington Optimist Club members heading up that effort.
Started in 1987, the facility now includes 19 playing fields, most of them lighted. It also includes a large covered picnic shelter, a meeting room, concession stand with rest rooms, playground equipment, and the John Moga Memorial Walking and Fitness Trail. Over two thousand families use the facilities in some capacity, most as part of the programs offered by Wesley Chapel Weddington Athletic Association.
 The park is open to everyone.